Aluminium Sicherheitslineal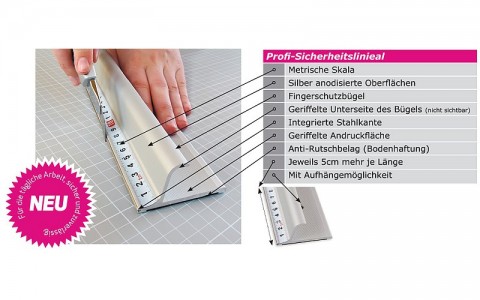 Product no.: 374
The English product description below may be inaccurate as it is automatically translated from the German description. We are in the process of revising the english descriptions manually. In the meantime, please contact us if you need specific information about our products.
Aluminum safety edge available in the following sizes:

- 55 cm
- 75 cm
- 105 cm
- 155 cm
- 205 cm
- 255 cm
- 305 cm

Safety guard for finger and hand protection.
The ruler is very stable, has a practical design and is well placed in the hand.
The underside is cuddly and soft (anti-slip) for a very good adhesion to glass, metal, fabric, plastics, cardboard and all smooth surfaces.